I put up a 36x16ft polytunnel in November last year, with the aim of eventually having a small mail order nursery along side my 'real job'. The tunnel was heated over the winter by a 11kw gas heater (not that it was needed much), with the aim of keeping the tunnel above 1.5c. I have a couple of thousand seedlings I've been growing on over the past couple of years, and will probably begin selling plants next spring once I've built the website (with a discount for BCSS members!). It's all looking frankly a bit of a mess in the photos below as my real job is keeping me extremely busy at the moment, and I can only manage to visit the tunnel 1/2 days a week (it's built on land at my parents farm - I'm 29 and don't have any real estate to my name, yet).
So here's the tunnel:
Various seedlings, mostly Acanthocalycium, Astros and Neochilenia in the top left. A bit of a mess as I say - when I get an opportunity they'll be arranged more logically:
More seedlings, 1 yr olds, each tray holds 112. A mix of stuff, lobivia, turbs, astros, coryphantha etc. etc.
A handful of 2ish yr old Lobivia famatimensis, coming into flower for the first time:
The above, repotted, with various Lophs in need of the same treatment!
A days work right here....
A sea of seedlings!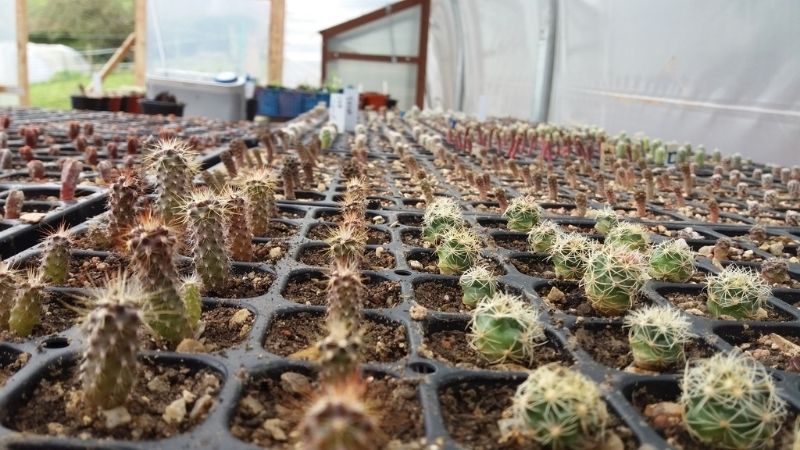 I'll update this thread with better pics as the year in the tunnel progresses.
Cheers,